FNQ REGION THE TABLELANDS ATHERTON CAIRNS KURANDA MAREEBA YUNGUBURRA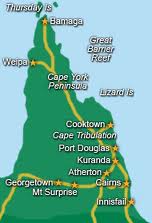 Far North Queensland (FNQ) is truly a paradise. We are blessed with an abundance of environments to admire, enjoy and explore.
FNQ, is the northernmost part of the state of Queensland. The region, which contains a large section of the Tropical North area, stretches from Cardwell in the south to the Torres Straits in the north and the Gulf of Carpenteria in the west. It is a vast region stretching from reefs and islands through to beach and coastal wetlands to mountains, tablelands and Gulf Savannah grassland. The area is steeped in ancient Aboriginal culture and much of the region is listed as a World Heritage Area. We are also fortunate to be custodians of the World Heritage listed Great Barrier Reef.


The World Heritage Area covers about 900,000 hectares but there is much to see and do outside the World Heritage Area as well. And when you want a diversion from terrestrial activities, you can visit another world famous beauty, the Great Barrier Reef. The WET TROPICS MANAGEMENT AUTHORITY is charged with managing the Wet Tropics World Heritage Area according to Australia's obligations under the World Heritage Convention. Under the primary goal of the World Heritage Convention, the Authority's must provide for the implementation of Australia's international duty to protect, conserve, present, rehabilitate and transmit to future generations the Wet Tropics of Queensland World Heritage Area.
If scenic panoramas are what you're after, you can travel along 600 km (372 miles) of roads through the World Heritage Area, including 40 scenic routes. Some of the most scenic include features like Queensland's highest peaks, Bartle Frere and Bellenden Ker, and Australia's longest single-drop waterfall, the 305 metre (1,000 foot) Wallaman Falls.


There are about 150 managed walks in the Wet Tropics. They range from short, popular boardwalks with visitor facilities to long distance treks with overnight camping. Go walking, and enjoy spectacular scenery, swim in the waterholes and experience the wide range of Wet Tropics environments. Learn about the plants and animals and the need to conserve and protect the Wet Tropics as a natural and Aboriginal cultural landscape.

We are thankful for the dedication of CAFNEC for protecting this beautiful area. The Cairns and Far North Environment Centre Inc. (CAFNEC) is a not-for-profit organization that was formed in 1981 by concerned members of the Far North Queensland community seeking better protection for FNQ's natural environment. Since CAFNEC's establishment it has been the focal point for environmental action and education in the region.

CAFNEC's geographic range of interest stretches from This region includes three World Heritage areas including the Great Barrier Reef World Heritage Area and the Wet Tropics World Heritage Area. CAFNEC plays an important role within the broader environmental movement, collaborating with other organisations focusing on environmental issues of state and national importance

THE TABLELANDS ATHERTON CAIRNS KURANDA MAREEBA YUNGUBURRA FNQ REGION HOME