Emerald Falls Estate
Limited release subdivision, eight lots only.
Seven are sold, the best one is left.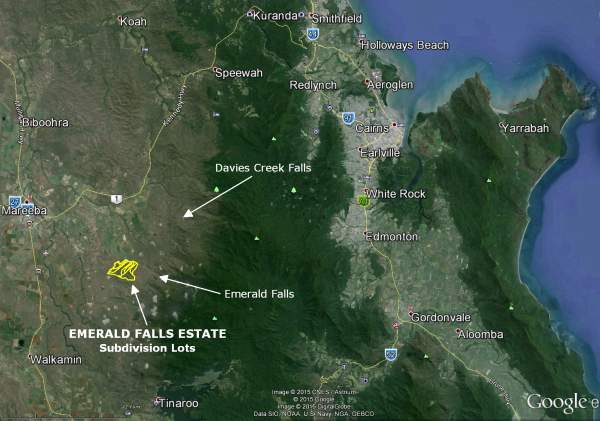 We have approval for the subdivision of eight lots ranging in size from 75 to 255 acres.
All subdivision lots are on the southern side of Emerald Falls road, just before the public carpark of Emerald Falls itself. They are about 14-15 km from Mareeba GPO, of which about 4-5 km are unsealed dirt road. All lots are within 3 km of the crystal clear and picturesque Emerald Creek falls.
The area has about 800mm of rainfall and enjoys 300 sunny days a year and is one of the healthiest climates to live in.
This is a unique opportunity for you to own your own wilderness block just 10 minutes from the center of Mareeba and only about one hours drive from Cairns and its international airport.

Access is from the Cairns side of Mareeba into Tinaroo Creek road, turn left into Cobra road, which turns into Emerald falls road (unsealed). You will see our sign just after the grid to your right, only minutes before you reach the popular Emerald falls carpark and swimming spot.
Since this area is near World Heritage and is home to several rare and endangered species (for example northern quolls and bettongs), we have cooperated with council, Wet Tropics Management Autority and Queensland Parks and Wildlife to formulate conservation covenants. Some aspects of the covenants will cover all, other aspects will cover some parts of the subdivision lots. They formally acknowledge the vegetation restrictions reflected by the vegetation management act and restrict non-native animals. Dogs, cattle, horses, pigs and poultry are allowed subject to certain conditions, but cats, goats and deer are not.

Lot 7, Emerald Falls Road

255.2 acres of freehold land
~10 acres of rich volcanic soil on gently sloping ground near road
only two kilometers from beatiful Emerald Falls

potential dam sites and one small existing dam
seasonal creeks and gullies

good 4WD-track to the back of property
hill-tops up to 590m high with million dollar views in all directions
total privacy

PRICE: $550,000.- incl. gst FIRM

This is the biigest and best block in this subdivision which offers million dollar panoramic views from the highest foot-hill of the range.

In the picture on the right the boundaries of Lot 7 are shown in yellow. The internal access roads, which are about 5.3 km long, are shown in turquoise. They lead up to the top of several hills and ridges with spectacular views, these are certainly some of the best views you can get on the northern Tablelands. We do recommend 4WD only on this track after the first ~500 meters, also it will be possible to turn it into a 2WD track if wanted. An Ergon high-voltage powerline is traversing this lot, however there are many spots where you can be far away from the powerline (including the spots with the best views, both near the main road and in the bottom right of above map) and Ergon will maintain the main track through the property.

call 0499620260 for more details

and an inspection



Panorama-view to the north-west showing two possible house sites


Stunning views to the east


Distant views north

Only trees and mountains to the north-east

Beautiful vistas to the south-east

Down at the creek (seasonal)

View to Turtle Rock and Lambs Head

Ancient Grass-Trees


The pool at Emerald-Falls


For further information, to have any questions answered and/or to arrange a property inspection, please
call 07-40937755 or 0499620260