WWOOFERS or HELP-X - Kanjini Co-Op welcomes enthusiastic and energetic workers.

Below are our conditions for wwoofers and help-xers.
As you will have to accept them, please read these before you contact us, thanks.

We ask that you do 5 hours work each day for your food and shelter (arrival and departure days together count as one day)
The number of hours may vary depending on the productivity of your work or if you require a lot of time from us for any reason
Daily work hours are flexible and you may work extra hours to then have a day/s off to explore the area
We expect you to be able to work unsupervised and follow instructions and ask questions if you need any clarification.
You may be working on projects with Kanjini Co-Op members or on your own or together with other wwoofers.
Food and facilities will be available for you to make your own breakfast and lunch. We all share dinner in the evening.
We are generous with food and endeavour to provide tasty home-cooked meals; in return we expect that you are generous with your work times and productivity.
We request that you contribute to house maintenance like cleaning and cooking/food preparation.
This is not included in the 5 hours.
You are responsible for washing your own clothes. There is an automatic front loading washing machine.
You can be accommodated in a choice of rooms. You are asked to leave your room as clean as you find it.
You are expected to provide your own work clothes. We request you have sturdy boots/shoes, long sleeved shirt, trousers, sun hat, rain coat and water bottle. You are also asked to please bring a torch.
We ask that during your stay you learn to be and remain conscious of power (electricity) usage.
We are powered entirely from solar power.
We request that whilst an appliance is not in use it be turned off at the wall switch.
This includes computers and mobile phone chargers etc.
You can use our wireless internet connection, but not for viewing videos or movies (eg skype with voice only) due to limited bandwidth and so many people sharing it.
We use non violent communication and are always happy to discuss any matters of any concern.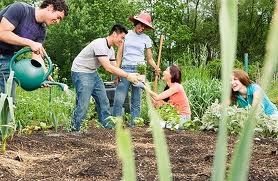 If you are interested to wwoof or help at Kanjini Co-Op then please CONTACT US

We look forward to sharing some fun times with you on the farm, in the gardens and on various building projects....You might like to also swim in the lake or the creek or explore the waterfalls and rainforest walks in the magnificent FNQ Region.

Old friends pass away, new friends appear.
It is just like the days. An old day passes, a new day arrives.
The important thing is to make it meaningful: a meaningful friend - or a meaningful day. Dalai Lama


See wonderful wwoofers at work at Kanjini Co-Op HERE