Cairns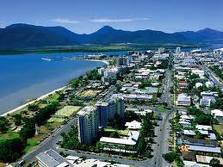 Cairns is a regional city in Far North Queensland. It is located on Trinity Bay, north about 1,700 km from Brisbane It is a popular and desirable destination for the tourism and business conference markets. Its tropical climate, world class educational facilities and proximity to many attractions, have lured many people to relocate to the area for the lifestyle that Cairns and its surrounds offer. The Great Barrier Reef can be reached in less than an hour by boat. Daintree National Park and Cape Tribulation, about 130 km north of Cairns, are popular areas for experiencing a tropical rainforest. It also serves as a starting point for people wanting to explore Cooktown, Cape York Peninsula.

Cairns has two access roads to the Atherton Tableland; the Kuranda Range Road (Cairns to Kuranda 32 klms) and the Gillies Highway (Cairns to Yungaburra 71 klms ). Commuting is a common occurrence from Kuranda and Mareeba, both for work and education.Cairns International Airport services Cape York Peninsular and Thursday Island communities as well as Nationally and Internationally.


Various parks and attractions take advantage of the city's natural forested surroundings. Among
them are the Botanic Gardens, Rainforestation Nature Park, Tjapukai Aboriginal Cultural Park, and Kuranda Skyrail Rainforest Cableway, which extends for 7.5 km over World Heritage rainforest. A notable feature of the Cairns Esplanade is a swimming lagoon with adjoining free barbecue areas. A boardwalk allows pedestrians and cyclists to move along the foreshore from the lagoon.
History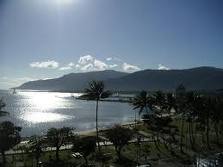 In 1770, James Cook first mapped the future site of Cairns, naming it Trinity Bay. Closer investigation by several official expeditions 100 years later established its potential for development into a port.Cairns was founded in 1876, hastened by the need to export gold discovered on the tablelands to the west of the inlet. The site was predominantly mangrove swamps and sand ridges. The swamps were gradually cleared by labourers, and the sand ridges were filled in with dried mud, sawdust from local sawmills, and ballast from a quarry at Edge Hill. Debris collected from the construction of a railway to Herberton on the Atherton Tableland, a project which started in 1886, was also used. The railway opened up land that was later used for agriculture on the lowlands (sugar cane, corn, rice, bananas, pineapples), and for fruit and dairy production on the Tableland. The success of local agriculture helped Cairns to establish itself as a port, and the creation of a harbour board in 1906 helped to support its economic future.
Climate
Cairns experiences a warm tropical climate, specifically a Tropical monsoon climate. A wet season with tropical monsoons runs from November to May, with a relatively dry season from June to October, though showers are frequent for most of this period. Mean rainfall of Cairns is 1,992.8 millimetres (78.5 in). Cairns Climate Statistics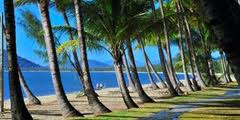 Beaches
The Northern Beaches run from Cairns in the south to Ellis Beach in the north. Many residents commute from these suburbs. Cairns area has several excellent beaches which, in season (October to March) have stinger nets installed and are patrolled by Surf Life Savers.

Education
Cairns has numerous primary and secondary schools. Separate systems of private and public schools operate in Queensland. There are 20 state primary schools and 16 state high schools operated by the Queensland state government Department of Education within the Cairns Regional Council. Catholic Education Cairns encompasses nineteen primary schools, six secondary colleges and one P-12 college.
The Cairns Campus of James Cook University is located at Smithfield. The city is also home to a TAFE college, and a School of the Air base, both located in the inner suburb of Manunda. Cairns Montessori School is an extended day kindergarten catering for children 15 months to school age. The Candlenut Steiner School is near Kuranda.


Health
The Cairns Base Hospital is situated on the Cairns Esplanade and is the major hospital for the Cape York Peninsula Region. The smaller Cairns Private Hospital is located nearby, with excellent and available diagnostic facilities. On the north side of the Base hospital is located the Australian Red Cross Blood Service. Cairns is a base for the Royal Flying Doctor Service, which operates clinics and provides emergency evacuations in remote communities throughout the region.

Cairns also has a wide range of Natural Health Practitioners including Chinese Herbalists, Acupuncturists, Naturopaths, Homeopaths, Masseurs of varying modalities etc. The city has excellent dental services. Natural Health food stores are in the CBD and surrounding suburbs. Cairns is also blessed to have another fantastic cooperative - Community Foods.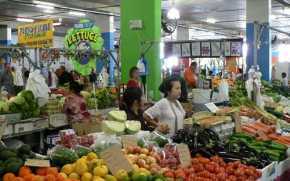 Markets
There are regular weekly markets - Rustys Markets, with a large range of fruits and vegetables, herbs and flowers. Farmgate, the local producers and farmers market is on every Saturday from 7.30am to 2pm in the atrium at The Pier at the Marina. Offering locally produced fresh produce: beef, seafood, dried product, value add agricultural products, cakes, conserves, breads, deli goods and wine market. Local seasonality is the theme. The region also boasts many Markets for every weekend.

Permaculture Cairns

Permaculture Cairns is a non-profit community group. The mission is to implement sustainable design systems throughout the Cairns community & the Far North Queensland Region, through education, communal design projects & the shared individual experience of permaculture. Permaculture design teaches us to understand and mirror the patterns found in healthy natural environments. We can then build productive, sustainable, cultivated ecosystems, which include people, and have the diversity, stability, and resilience of natural ecosystems.
Sport and Recreation
Notable sporting grounds include Barlow Park, Cairns Showground and Cazaly's Stadium (football, rugby and cricket) the Cairns Convention Centre (basketball), the Cairns Hockey Centre and the newly opened Cairns International Tennis Centre.
The
Cairns Bushwalking Club
meet regularly to explore the many wonderful areas around Cairns.
Activities, Arts and Resources

The Cairns region has many Festivals, including Cairns Festival, Reggaetown -World Music Festival. The Kuranda Ampitheatre is a superb venue set in the rainforest in Kuranda showcasing world renowned performers. Regular Markets, Circus Training for all ages, Concerts. Cairns has several theatres, Jute Theatre, Rondo Theatre, Cairns Civic Theatre and movie theatres.There are also many Dive boats and schools, walking and gardening clubs, Yoga schools and academies.

KickArts and the Tanks Art Centre have regular exhibitions as does Canopy ArtSpace which also has studios and workshops. There is also has the Cairns Regional Gallery showcasing both local , National and Travelling International exhibitions.
The Cairns Regional Council continue to support the numerous Arts and Cultural activities
THE TABLELANDS ATHERTON CAIRNS KURANDA MAREEBA YUNGABURRA FNQ Region HOME