Kanjini News
Posted 19th August 2016
Eco-Inspirations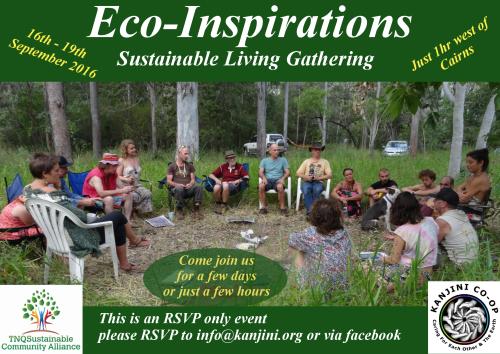 A Sustainable Living Gathering happening from 16th to 19th of September 2016 on the beautiful Kanjini land.

Bringing people together to share in interactive workshops, talks and demonstrations while creating lasting networks for an environmentally, financially, and socially abundant life. A gathering to raise inner and outer awareness and provide tools for change towards a more sustainable future.

We are creating a space for people from all walks of life to come and share ideas, experiences, and talents to inspire success and taking care of the land.

We will provide workshop spaces where all attendees are invited to participate in and/or create workshops, entertainment, and fun activities throughout the gathering, we will have some pre-scheduled activities but the rest will be organised by workshop boards at the event. Please let us know if you think you might want to host a workshop and if there is anything you might require to do so. Here are a few things that we are planning on having (or that have been offered by participants already); workshops on privacy in community, different community models, food forests, didgeridoo meditation, wild food walk, songs and blessings, live music, fire dancers, permaculture talks, weaving, guided tours of our 30 square kilometre property, time to explore the new campsites on the land, bubbles, swims, astronomy sessions and Shawn has kindly offered to do another big Hungi this year with lots of options for both vegetarians and
carnivores.

Kanjini will not charge for this event but please do bring some cash with you for donations as it is a lot of work and money to create this event for everyone and we would love to keep doing this for years to come. You can come for a few hours or camp with us all three nights on the side of our 20 acre lake.
We will provide workshop areas, a large camping area, toilets, and showers, we are also setting up a kitchen area with BBQ, stove, and a sink. The food for the Hungi on Saturday night will be provided by Kanjini with a suggested donation of $15-$20/person being asked for.
Please bring food to share for the other meals during the gathering, as we intend to create those together.
No pets, illegal substances, or excessive amounts of alcohol, so please drink responsibly and don't let your behaviour impact the rest of the group. We ask that everyone respects each other and the land.

If you plan on being part of this gathering please send us an EMAIL saying RSVP ECO INSPIRATIONS in the subject line and the amount of people and what days you plan on being there. It is most important to RSVP for the Hungi dinner so that we can have enough food for everyone to enjoy.
Also keep an eye on our Facebook event page Eco-Inspirations.
We look forward to sharing with you during this inspirational event.
If you would like to see more of last years gathering check out "Kanjini Co-Op Annual Gathering 2015"