Kanjini News
Posted 8th March 2015
Development Approval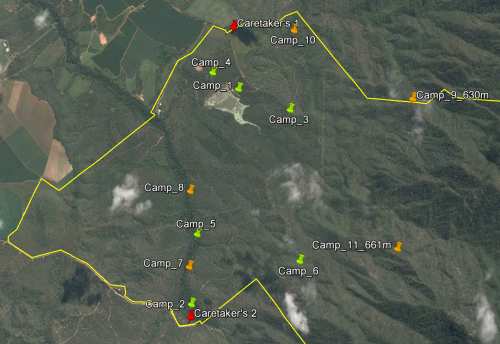 On 4th March 2015 the long process of our first development approval has finally come to fruition!!!
We now have approval to build two caretakers dwellings and create eleven bush camping spots on lot 68 (the northern-most lot of our three adjoining properties). The approval is in two stages, with stage one being for the caretaker's dwelling near the Kay road entrance and six camping spots; and stage two being for the other caretaker's dwelling near the Emerald falls picnic area and another five camping spots.
This was not a cheap process. It has already cost us about $10,000 in fees etc and we will need to pay another about $15,000 for access points and road contributions by the time we have fulfilled council conditions (that is without tracks, toilets building design and permits). So we have to attract a lot of well-paying campers to pay for it all.....
In the picture on the right you can see the two planned caretaker's dwellings as red pins, the first six camp sites as green pins and the five camp sites in the second stage as orange pins.
Camps 6, 9 and 11 are going to be up in the escarpment, enjoying nice views, camp sites 2, 5, 7 and 8 are going to be on Emerald creek for cool camping, camp sites 3 and 4 are going to be on a couple of smaller dams, which are both nice spots for a swim and scenery. Camp site 1 is on the big lake. This one and camp site 2 at the A-frame decks will have more space and can accommodate larger groups as well.
We still have to scout out the exact sites and tracks to camp sites 5, 6, 7 and 8.
Now we will need to put in tracks and toilets for the camp site and collect building materials for the first caretakers dwelling and draw up plans etc...