Emerald Falls Estate Subdivision
Kanjini Co-Op land consists of three lots making up the former 'Adler Hill' pastoral holding.
As we have an abundance of land and have had inquiries from people who love the Kanjini vision but prefer to have private ownership of the land, we have elected to do a limited release of nine subdivision lots. These subdivision lots are magnificent lifestyle properties, some of which are also suitable as small commercial or hobby farms or as grazing blocks..
We have approval for the subdivision of four lots ranging in size from 10 to 126 acres.
The four subdivision lots are all on the southern side of Emerald Falls road, before the public carpark of Emerald Falls itself. They are about 14-15 km from Mareeba GPO, of which about 4-5 km are unsealed dirt road. All lots are within 3 km of the crystal clear and picturesque Emerald Creek falls.
The area has about 800mm of rainfall and enjoys 300 sunny days a year.
This is a unique opportunity for you to own your own wilderness block just 10 minutes from the center of Mareeba and only about one hours drive from Cairns and its international airport. You can choose from a wide range of sizes and features. The lots have all several acres of rich volcanic soil, all have great views either across the Barron river valley or onto the ranges and some lots have truly magnificent vistas and breath-taking long-distance views. Most lots have good dam sites, all have springs and/or permanent water holes and all have Ada creek transecting them which was still trickling at the end of the very long 2012 dry season. The vegetation is characterised by Eucalypts, Acacias and Grevilleas with some pandanus trees and paperbarks in moister gullies. Three lots border onto Ada creek in the back where you find big trees and beautiful river flats. Each lot has its own 4WD-track to access its hilly back country.
Access is from the Cairns side of Mareeba into Tinaroo Creek road, turn left into Cobra road, which turns into Emerald falls road (unsealed). You will see our sign just after the grid to your right, only minutes before you reach the popular Emerald falls carpark and swimming spot.
Since this area is near World Heritage and is home to several rare and possibly some endangered species (for example quolls and bettongs), we have cooperated with council, Wet Tropics Management Autority and Queensland Parks and Wildlife to formulate conservation covenants. Some aspects of the covenants will cover all, other aspects will cover some parts of the subdivision lots. They formally acknowledge the vegetation restrictions reflected by the vegetation management act and restrict non-native animals. Dogs, cattle, horses, pigs and poultry are allowed subject to certain conditions, but cats, goats and deer are not.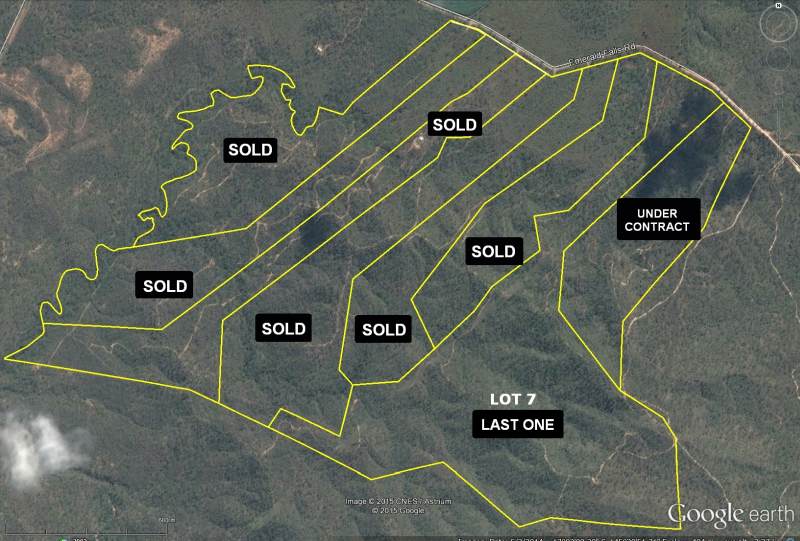 Here are the main features of each lot with links to individual pages with images and more info on each lot:

STAGE 1 -
Lot 1 -

SOLD



Lot 2 -

SOLD



Lot 3 -

SOLD



Lot 4 -

SOLD



STAGE 2 - now released for sale off plan:
Lot 5 -

UNDER CONTRACT



Lot 5 -

UNDER CONTRACT



Lot 7 - $544,500 ($495,000.- +gst) ONO
255.2 acres; ~10 acres of volcanic soil on gently sloping land; elevation up to 590m, absolute privacy with spectacular million dollar views;
Lot 8 - $324,500.- ($295,000.- +gst) ONO
83.6 acres; ~2 acres of volcanic soil on gently sloping land; potential dam sites; elevation up to 530m; beautiful vistas of the great dividing range;
In the image on the top right, you can see where the subdivision blocks are in relation to Cairns, Mareeba and Emerald Creek Falls.
In the image on the bottom right you can see the approximate property boundaries super-imposed onto Google-earth.
call 0499620260 for more details


For more pictures and info on each block, you can click the below links:
For further information, to have any questions answered and/or to arrange viewing of the properties, please contact Svargo on 0499620260.